C-MAG holds 100 rounds of ammunition. Even the most stable, accurate and controllable weapon puts the user at risk when it is out of ammunition, which is why increasing magazine capacity is the single most important step toward increasing effectiveness.
One high-capacity C-MAG takes the place of 3.5 conventional 30 round magazines.
CLICK HERE TO SEE A C-MAG FIRE!
Another benefit of the C-MAG is that it is allowed to be stored loaded indefinitely - there is no spring failure like there can be with conventional magazines
A patented rotary mechanism transfers the ammunition alternately from both drums into the feed clip. It provides a steady feed and maintains a dynamic weight balance at all times during firing.
C-MAG is composed of two drums which feed into the weapon alternately, making sure that the weapon's balance is not compromised and accurate firing can take place.
C-MAG are available for the following guns:


M16/M4 Standard

M249/FN MINIMI

MP5 9mm

G36

HK G3

HK51

Steyr AUG

HK33


and can be made to fit other weapons with the addition of various feed clips
All C-MAG drums come with a personal loader, pouch, tech manual and graphite tube.




These loaders are great for loading your standard mags, too! You will find it to be the speediest way to load your mags with loose ammo.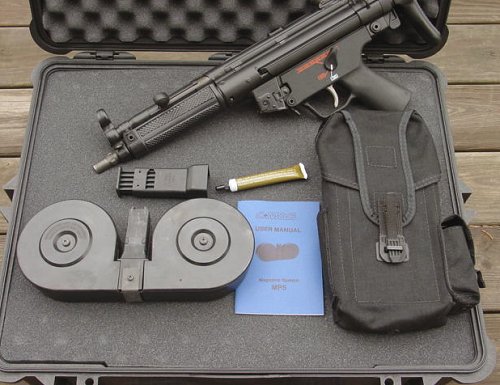 This kit for the MP5 9mm includes C-MAG magazine, personal loader, pouch, tech manual and graphite tube.
C-MAG high capacity magazines are built to the highest international production standards and meet all current combat requirements for continued performance, environmental exposure and reliability. The magazines have an estimated 60,000 round service life and require no maintenance other than cleaning and lubrication.
C-MAG has been successfully deployed in a wide range of severe environments and challenging field conditions such as sand, water, ice, dirt, mud, heat, and cold. C-MAG operates smoothly and without malfunctions. It has been continuously tested and used by military services worldwide since 1989.
COPYRIGHT BY ARMAMENT SERVICES INTERNATIONAL, INC. ALL RIGHTS RESERVED
CONTACT US